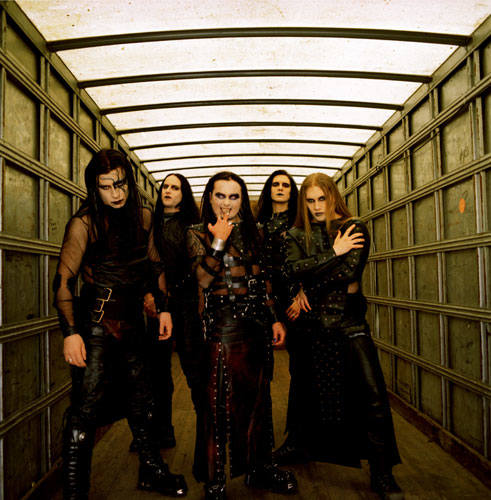 Discography Cradle of Filth (a.k.a. C.O.F.)
website
facebook
fan-vk

Death Metal (early), Symphonic Black Metal (mid), Extreme Gothic Metal (later)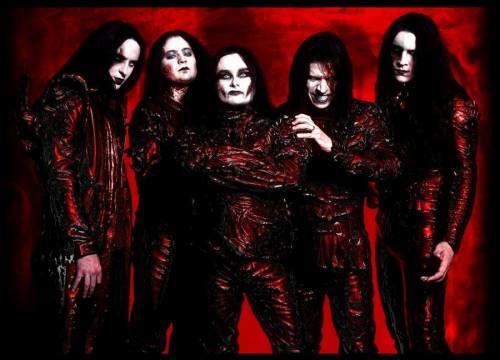 Cradle of Filth (с англ. — «Колыбель порока») — английская метал-группа, основанная Дэни Филтом в 1991. Стиль группы эволюционировал из блэк-метала к готик-металу и симфоническому блэк-металу. Их лирика и образы находятся под сильным влиянием готической литературы, поэзии, фильмов ужасов и мистики.
далее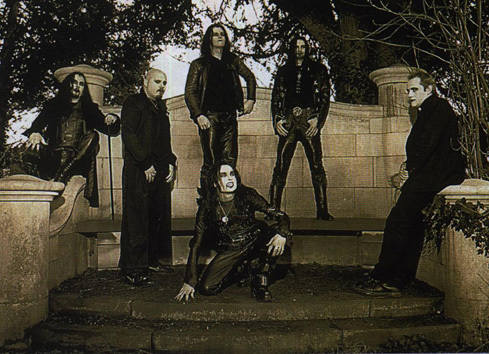 Cradle of Filth are an English extreme metal band, formed in Suffolk in 1991. The band's musical style evolved originally from black metal to a cleaner and more "produced" amalgam of gothic metal, symphonic metal and other metal genres. Their lyrical themes and imagery are heavily influenced by Gothic literature, poetry, mythology and horror films.
The band has broken free from its original niche by courting mainstream publicity. This increased accessibility has brought coverage from the likes of Kerrang! and MTV, along with frequent main stage appearances at major festivals such as Ozzfest, Download and even the mainstream Sziget Festival. They have sometimes been perceived as Satanic by casual observers, even though their outright lyrical references to Satanism are few and far between; their use of Satanic imagery has arguably always been more for shock value than any seriously-held beliefs.
more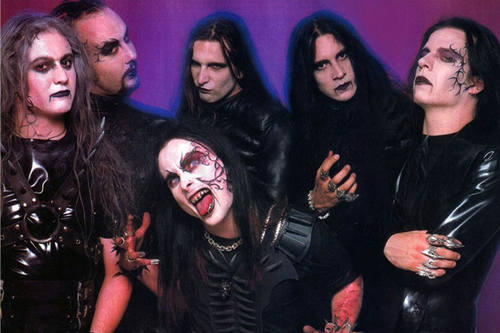 Как же мне нравится эта банда!!
Это уникум ей-ей в тяжмете,
но как долго шла к пониманию... первое впечатление я точно помню- отторжение,
но мне друзья по форуму (это было так давно на мп3реал- 2005-06 годы) говорили- да послушай, это шедевр!
и я всё слушала и слушала не раз, не два... и наконец дослушалась до того, что эта группа в первых числах моего списка призёров)
большую роль, между прочим, сыграло познание биографии музыкантов..четыре вокальных октавы- это вам не шутки
И ещё- я поняла- только человек подготовленный, знающий многое, может оценить определённое искусство, неважно в какой сфере,
будь то классика, живопись, скульптура, разных времён и направлений- слушать и смотреть надо изнутри,
понимать надо, а для этого надо напрягаться, надо..! иначе так и остаться на незнании и недоразвитии (это относится к любой сфере искусства)...
Итак обещанное дискографи:
1994 - The Principle of Evil Made Flesh
1996 - Dusk... and Her Embrace
1998 - Cruelty and the Beast
2000 - Midian
2001 - Bitter Suites to Succubi
2003 - Damnation and a Day
2004 - Nymphetamine
2006 - Thornography
2008 - Godspeed on the Devil's Thunder
2010 - Darkly, Darkly, Venus Aversa
EP
1996 - Vempire or Dark Faerytales In Phallustein
1999 - From the Cradle to Enslave
Compilations
1994 - Sodomizing The Virgin Vamps (Live Bootleg + Demo'92)
2000 - Raredaemonaeon (Bootleg)
2002 - Lovecraft & Witch Hearts
2002 - Live Bait for the Dead
2007 - Eleven Burial Masses (Digipack Edition)
Доступно только для пользователей