Discography
_________________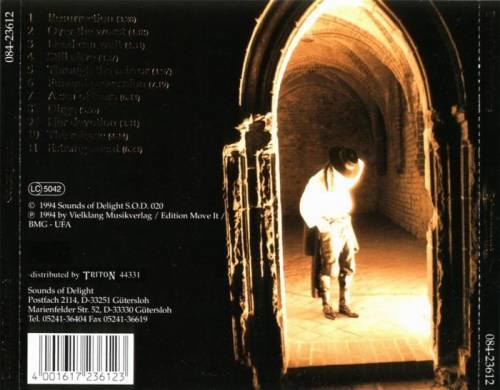 DREADFUL SHADOWS - Estrangement
year....1994
style....Gothic Rock
country....Germany
label....Vielkland Musikproduktion/Irond CD 03 - 461
Band:
Sven Friedrich - Vocals, A.Guitars, Keyboards
Frank Hofer - Guitar, Backing Vocals
Stefan Neubaer - Guitar
Jens Riedeger - Bass Guitar
Ron Thiele - Drums, Backing Vocals
Guests:
Julia Richter Vocals
Ted Loose Piano, Aadd. Keyboards
Tracklist:
01. Resurrection
02. Over the Worst
03. Dead Can Wait
04. Still Alive
05. Through The Mirror
06. Funeral Procession
07. A Sea of Tears
08. Dirge
09. Her Devotion
10. The Release
11. Estangement
Total time : 55.46
История этой группы началась в Берлине, в 1993 году. И это - история семилетнего восхождения на вершину готической сцены, место на которой дано им по праву. Они, как и все, начинали с малого - нескольких демо-записей и локальных концертов. Но постепенно им удалось заключить ряд выгодных контрактов, выпустить несколько успешных альбомов и синглов. Если диск 'Buried Again' вошёл в Top 10 DAC, то альбомы и синглы 'Burning The Shrouds', 'Beyond The Maze', 'Twist In My Sobriety', 'Futility' уже занимали места в Top 5 DAC. Наконец, последний студийный альбом 'The Cycle' попал в Top 3 DAC! Это был самый большой успех, выпавший на долю этой группы. На записях с ними сотрудничали такие известные люди, как Stefan Winkler, Gitane DeMone. С первых дней карьеры они ведут активную концертную деятельность. География выступлений - вся Европа и даже Ливан! Они выступали вместе с Christian Death, Rosetta Stone, Blind Passengers, Paradise Lost, The Cure, Rammstein, Lacrimosa, Scream Silence. К сожалению, группа Dreadful Shadows объявила о последнем турне и прекращении своей деятельности в 2000 году. После этого на лейбле Vielklang были ремастированы и переизданы в виде двойного дигипака первые две работы немцев - 'Estrangement' & 'Homless'. На 'Homeless E.P.' мы можем услышать потрясающую готическую версию песни New Order 'True Faith', которая стала клубным хитом. К сожалению, этим релизом закончилась история одной из самых великих готик-роковых формаций...
Lossless
Доступно только для пользователей