Discography
___________________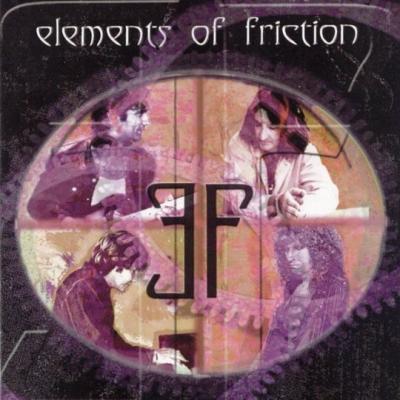 Elements Of Friction - Elements Of Friction
Label: MTM Music
Genere: Melodic Hard Rock, AOR
Years: 2001
Country: UK / Us.
Elements Of Friction это соло альбом басиста Ricky Phillips (The Babys, Ted Nugent, Bad English, STYX), пригласивший в помощь очень даже влиятельных музыкантов: Robin McAuley (Grand Prix, Survivor, M.S.G, Far Corporation, Demon Angels), Tommy Aldridge (Thin Lizzy, M.A.R.S., Gary Moore, Marco Mendoza, Whiteanake, Ozzy Osbourne, House Of Lords, Ted Nugent, Lynch Mob), но а что получилось судить вам.
Tracklist: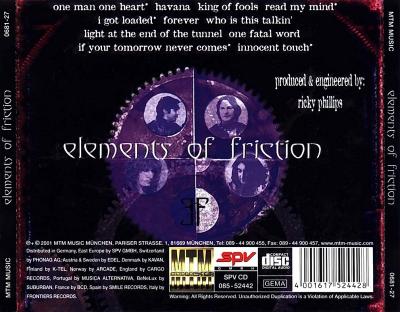 Band:
Robin McAuley - Vocals (BLEED, GMT, GRAND PRIX, OPERATOR, THE BIG BALL STARS, SURVIVOR, MCAULEY SCHENKER GROUP, FAR CORPORATION, DEMON ANGELS, NORTHERN LIGHT ORCHESTRA).
Tommy Aldridge - Drums (THIN LIZZY, M.A.R.S., MANIC EDEN, PAT TRAVERS, GARY MOORE, BLACK OAK ARKANSAS, MARCO MENDOZA, OLIVER WEERS, NRG, WHITESNAKE, OZZY OSBOURNE, HOUSE OF LORDS, TED NUGENT, JOHN SYKES, LYNCH MO
.
Ricky Phillips - Bass, Guitar, Keyboards (FREDERIKSEN / PHILLIPS, THE BABYS, TED NUGENT, BAD ENGLISH, STYX)
Marcus Nand - Guitar
David Glen Eisley - Backing Vocals
Lossless
Доступно только для пользователей