Discography
_________________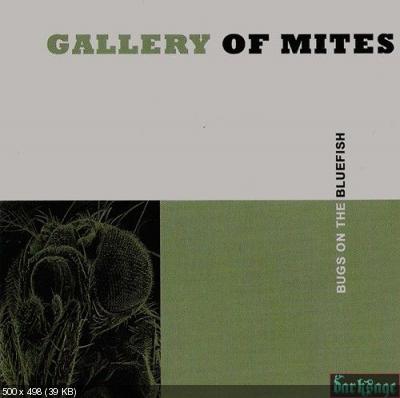 Gallery Of Mites - Bugs on the Bluefish
Год:2003
Страна:US
Стиль:Stoner Rock, Heavy Metal
Tracklist
01. Exploded View (3:24)
02. Headless Body, Topless Bar (5:06)
03. New York To Peru (2:57)
04. Chocolate Rabbit (4:32)
05. X's For Eyes (3:59)
06. Suicide Punchline (3:47)
07. 100 Days (Heron) (2:27)
08. Inside Out (4:06)
09. A Man Called Shit (6:24)
10. Bugs On The Bluefish (4:38)
Доп. информация:
Tim Crown - Vocals
Jon Klriman - Rhythm Guitar , Bass , Drums , Etc...
Ed Mundell - Lead Guitar
Stu Gollin - Lead Guitar
Phil Caivano - Lead Guitar
Joe Calandra - Bass Guitar
Jim Baglino - Bass Guitar
Duane Hutter - Harmonika
Lohn Garcia - Vocals On "100 Days"
Доступно только для пользователей
Gallery of Mites, a ten-man band that boasts five lead guitarists, was formed by Monster Magnet drummer Jon Kleiman and ex-Magnet frontman Tim Cronin. Having deemed a batch of songs too heavy for their garage-psych outfit, The Ribeye Brothers, the pair decided to develop the new project separately with the enlistment of additional members.
Bugs On The Bluefish is the raw and punchy debut album from this sprawling rock conglomerate. The record also features the members of Monster Magnet backing former Kyuss/current Hermano vocalist John Garcia on one song, a collaboration that's every stoner rock fan's wet dream.
l
При том что я обожаю Monster Magnet, отличный музон!