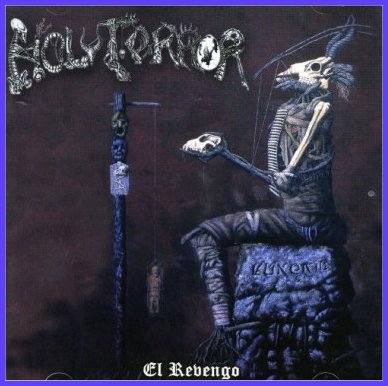 Holy Terror - El Revengo
Year:2006 (comp)
Tracklist:
Disc 1
01. A Fools Gold / Terminal Humor
02. Christian Resistance
03. Damned by Judges
04. No Resurrection
05. Evils Rising
06. Mortal Fear
07. Distant Calling
08. Alpha Omega (The Bringer of Balance)
09. Blood of the Saints
10. Black Plague
11. Terror & Submission
12. Tomorrow's End
13. Guardians of the Netherworld
Disc 2
01. Black Plague
02. Evils Rising
03. Judas Reward
04. Debt of Pain
05. Distant Calling
06. Christian Resistance
07. Blood of the Saints
08. Immortal Wasteland
09. Alpha Omega
10. Do unto Others
11. Christian Resistance
12. Alpha Omega
13. Judas Reward
14. Black Plague
On disc one, the first four tracks are from Mind Wars and were remixed in 2004. The rest of the disc is the original American version of Terror and Submission, which is a different mix than the UK version released on CD.
Disc two is a DualDisc, with the audio tracks one through nine from a show in Dendermonde, Belgium; tracks 10 through 13 were recorded in Fort Lauderdale, Florida; tracks 13 and 14 were recorded in Milan, Italy. The video side of the disc features concert footage from Wisconsin, Illinois, and California, as well as a music video for "Judas Reward"