Discography
_________________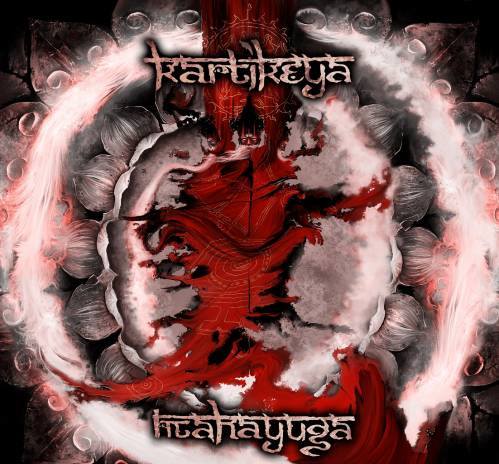 Kartikeya - Mahayuga
Год :2011
Страна : Russia
Стиль :Ethnic Death Metal
Tracklist :
01. Sarva Mangalam
02. He Who Carries The Head Of Brahma
03. The Path (feat. Marina (AMBEHR))
04. Fields Of Kurukshetra (feat. Kathir (RUDRA))
05. Moksha
06. Neverborn (feat. Marina (AMBEHR))
07. Surya Jayanti
08. Exile
09. Choirs Of Oblivion
10. Utpavana
11. Satya Yuga
12. Treta Yuga
13. Dvapara Yuga (feat. Marina (AMBEHR))
14. Kali Yuga
Playing Time :01:11:28
Издатель (лейбл): Grailight Productions's
On April 8th, 2011, or 18 Chaitra, 5112 year of Kali Yuga, almost a year before the Creator of the Universe falls asleep and the Eternal Night of Brahma begins, Grailight Productions grants life to the second album of the epic ethnic death metal band Kartikeya (Moscow, Russia) - "Mahayuga". It is an incredibly interesting mixture of intense death metal, middle-eastern musical instruments, symphonic elements, deep conceptual lyrics and beautiful diverse melodies which will definitely whirl you into the vortex of ancient worlds and times! The massive hurricane of Kartikeya's music sweeps everything on its way, so be ready for an absolutely teeth-grinding release from one of the most original bands of the Russian metal scene. Last, but not least, "Mahayuga" features the enormous sound of Moscow-based "SunFall Records", wonderful artwork by Mstibog and guest vocals of Kathir (Rudra) and Marina (Ambehr), whose works will not leave anyone indifferent. So let the Sun submerge in darkness, and may the new life begin!
Mars - Вокал
Arsafes - Гитара, Вокал, Этнические Инструменты
Rinat - Гитара
Alexander - Бас
Alex Smirnov - Ударные
Dmitriy - Перкуссия
Lossless
Доступно только для пользователей