Discography
_________________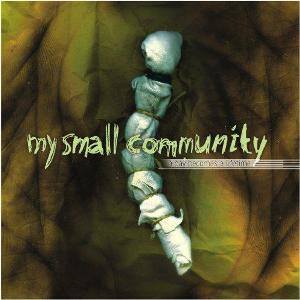 My Small Community - A day becomes a lifetime
Год: 2007
Стиль: Alternative Metal/Post-Grunge
Страна: Hungary
Tracklist
1. The Choice Is Yours
2. Let It Burn
3. Within Reach
4. Open World
5. Endless Day
6. Poison
7. What I Can Do With You (I Can Do Alone)
8. Before You
9. Into the Unknown
10. Blindfold
11. Disappear
12. ...And the Chopper Returns
Bodóczy Zoltán 'Undos' – vocal
Tóth Miklós 'Móka' – guitar
Horváth Gábor 'Sexy' – guitar
Mohr Péter 'Suta' – bassguitar
Szivós Zoltán 'MC' – drums
Цитата
What do I know about rock music from Hungary?.........(silence).....eh, ok then, I know a few bands like The Idoru, H.A.R.D and Age of Nemesis. And now also My Small Community from Budapest.
But the big stop sign comes up after these 4 bands, for a long time it hasn´t been easy for rock bands to get somewhere on the eastern front. But things are changing and thanks to the internet, bands like My Small Community has a bigger chance to get their music outside Hungary.
Their debut "A day becomes a lifetime" is a solid hard rock/heavy metal affair with traces of 80´s rock but I can also feel the winds of grunge in a few songs. They even pull off a cover of Alice Cooper´s "Poison" but in a more punk-ish way, nice. The best tracks are "Let it burn" and "Within reach".
The band also released an EP in 2010.
2
11