Discography

Myles Richard Bass (born November 27, 1969), known professionally as Myles Kennedy, is an American musician, singer, and songwriter, best known as the lead vocalist and rhythm guitarist of the rock band Alter Bridge, and as the lead vocalist in guitarist Slash's backing band, known as Myles Kennedy and the Conspirators. A former guitar instructor from Spokane, Washington, he has worked as a session musician and songwriter, making both studio and live appearances with several artists, and has been involved with several projects throughout his career. more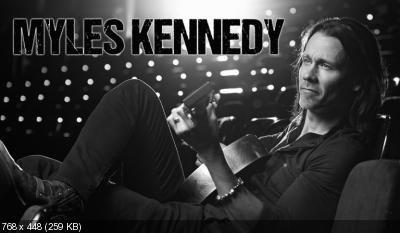 Майлз Кеннеди (англ. Myles Kennedy, имя при рождении — Майлз Ричард Басс (англ. Myles Richard Bass); 27 ноября 1969) — американский музыкант, играл в группах Citizen Swing, The Mayfield Four. Наиболее известен как вокалист и гитарист Alter Bridge, а также как вокалист и ритм-гитарист сольного проекта гитариста Guns N' Roses Слэша, вместе с которым они записали альбомы Apocalyptic Love и World on Fire. В 2008 году Кеннеди участвовал в проекте бывших участников Led Zeppelin, однако проект не увидел свет..
https://ru.wikipedia.org/wiki....B%D0%B7
_________________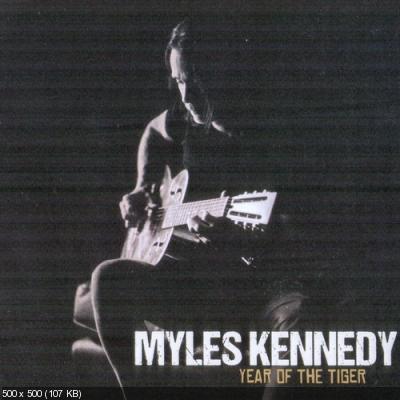 Myles Kennedy - Year Of The Tiger
Год: 2018
Стиль: Hard Rock/Heavy Metal
Страна: US
Tracklist
01. Year Of The Tiger (3:41)
02. The Great Beyond (4:50)
03. Blind Faith (4:29)
04. Devil On The Wall (3:44)
05. Ghost of Shangri La (3:32)
06. Turning Stones (3:38)
07. Haunted By Design (3:40)
08. Mother (3:42)
09. Nothing But A Name (5:00)
10. Love Can Only Heal (5:33)
11. Songbird (4:04)
12. One Fine Day (4:51)
Band
Taken from album liner notes.
Myles Kennedy – vocals, guitar, banjo, lap steel, bass guitar, mandolin
Zia Uddin – drums, percussion
Tim Tournier – bass guitar
Michael "Elvis" Baskette – keyboards, producer, mixing
Jef Moll – engineering, digital editing
Brad Blackwood - mastering
Simon Dobson – string arrangement ("The Great Beyond")
Will Harvey – violin ("The Great Beyond")
Maddie Cutter – cello ("The Great Beyond")
Elitsa Bogdanova – viola ("The Great Beyond")
Year of the Tiger is the debut studio album by American musician and singer-songwriter Myles Kennedy. His first release as a solo artist, it was released on March 9, 2018, by Napalm Records. The album is a musical departure from the hard rock music of Kennedy's other projects, instead featuring a stripped-back blues-based sound. A concept album, it explores the death of Kennedy's father in 1974, the year of the Tiger in the Chinese calendar...
https://en.wikipedia.org/wiki/Year_of_the_Tiger_(Myles_Kennedy_album)