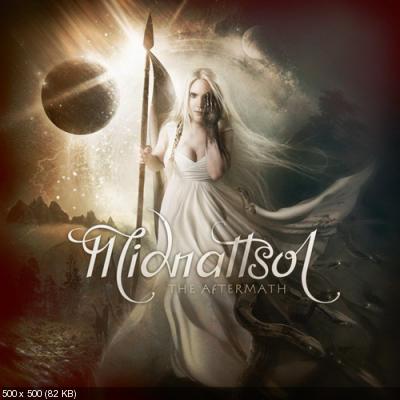 Midnattsol - The Aftermath
Год: 2018
Tracklist
01. The Purple Sky (6:06)
02. Syns Sang (5:02)
03. Vem Kan Segla (3:48)
04. Ikje Glem Meg (4:23)
05. Herr Mannelig (9:06)
06. The Aftermath (5:18)
07. The Unveiled Truth (3:58)
08. Evaluation Of Time (6:44)
09. Forsaken (6:06)
10. Eitrdropar (2:59)
Band
Carmen Elise Espenæs – vocals
Liv Kristine – vocals
Daniel Fischer – keyboards
Alex Kautz – guitars
Stephan Adolph – guitars, bass, vocals, drums (uncredited)
Rune Gunnar Stensøy – recording
Stephan Adolph – mixing, mastering
Heilemania – photography, artwork
Joachim Cilslik – logo
The Aftermath is the fourth studio album by the German Gothic/folk metal band Midnattsol. It was released in 2018 on Napalm Records.
A music videos was made for the cover of the medieval piece "Herr Mannelig" (with lyrics in Swedish and featuring the making-of footage from the recording sessions) and for "The Purple Sky", directed by Michael Rother and Tim Loeschmann.
A limited edition was released with a bonus track.
https://en.wikipedia.org/wiki/The_Aftermath_(Midnattsol_album)