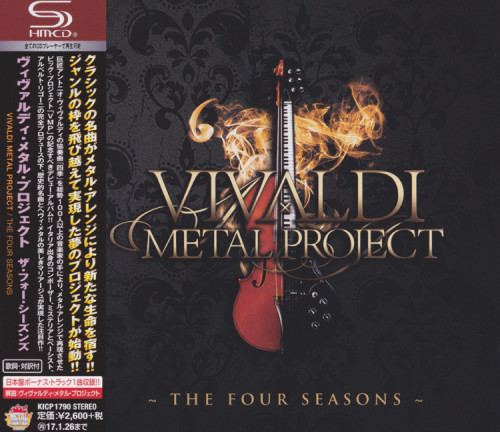 Vivaldi Metal Project - The Four Seasons
Год: 2016
Страна: International
Стиль: Symphonic/Neo-Classical Metal
Site
Tracklist
1. Escape From Hell
2. The Illusion of Eternity
3. Vita
- part 1: Darkness
- part 2: Light
4. Euphoria
- part 1: Metamorphosis
- part 2: Into the Game
5. Sun of God
6. Immortal Soul
7. Thunderstorm
8. The Age Of Dreams
9. Alchemy
- part 1: The Abyss
- part 2: Canto
- part 3: Golden Number
10. Stige
11. The Meaning of Life
12. The Final Hour
13. Grande Madre
14. Doomsday
- part 1: Skyfall
- part 2: Doomsday
- part 3: Resurrection
15. Beyond Eternity (Bonus Track)
Total Playing Time 78:27
"The cast of musicians involved really does speak for itself: Mark Boals (Malmsteen, Royal Hunt), Fabio Lione (Rhapsody of Fire, Angra), Edu Falaschi (Almah), Rob Rock (Impellitteri), Mike Lepond (SymphonyX), Dani Löble (Helloween), Ruud Jolie (Within Temptation), Mark Cross (Firewind, Scorpions), Steve Di Giorgio (Testament), Rolf Pilve (Stratovarius), Victor Smolski (Rage, Almanac), Ruben Israel (Delain), John Macaluso (ARK), Marco Sfogli (James Labrie), Chris Caffery (Savatage), Mark Wood (Trans Siberian Orchestra), Dirk Verbeuren (Soilwork), Atma Anur (Tony MacAlpine), Vitalij Kuprij, Anna Portalupi (Tarja Turunen), Sean Tibbetts (Kamelot), Martijn Peters (Stream of Passion) and many more…"
Доступно только для пользователей
+++
Vivaldi Metal Project - The Four Seasons 2016
Международный «звездный» проект VIVALDI METAL PROJECT, в котором участвуют более 70 приглашенных музыкантов, в том числе Rick Wakeman, Vitalij Kuprij, Chris Caffery, Fabio Lione, Mark Boals, Rob Rock, Dani Loeble и многие другие, работали в студии над записью металлической версии знаменитого произведения "The Four Seasons" Антонио Вивальди.
VIVALDI METAL PROJECT был основан в конце 2013 клавишником, композитором и продюсером Mistheria (соло-артист, работал с Bruce Dickinson, Rob Rock, Roy Z и др.) и басистом Alberto Rigoni (соло, TwinSpirits). Больше года заняла работа над аранжировками шедевра Вивальди, а также над подбором исполнителей, а в июне 2015 г. стартовала запись партий ударных.