Discography
_________________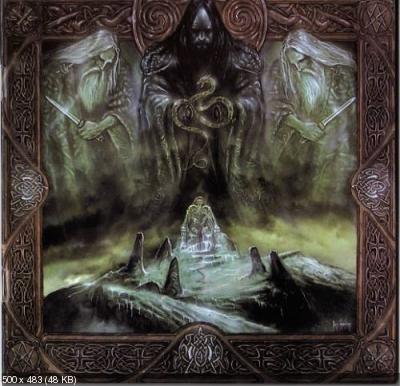 Absu - Tara / In the Eyes of Ioldánach
Year:2001,1998(ep)
Style : Death Metal
Country:USA
Tracklist:
01. Tara
02. Pillars of Mercy
03. A Shield With An Iron Face
04. Manannán
05. The Cognate House of Courtly Witches Lies West of County Meath
06. She Cries the Quiet Lake
07. Yrp Lluyddawc
08. From Ancient Times (Starless Skies Burn to Ash)
09. Four Crossed Wands (Spell 181)
10. Vorago (Spell 182)
11. Bron (Of the Waves)
12. Stone of Destiny (...for Magh Slécht and Ard Righ)
13. Tara (Recapitulation)
In the Eyes of Ioldánach-1998(ep)
14. V.I.T.R.I.O.L.
15. Hallstatt
16. Manannán
17. Never Blow Out the Eastern Candle
Line-up :
Sir Proscriptor McGovern - lead vocals, drums, percussion, analog synthesizers
Shaftiel - guitar, acoustic guitar, bass, vocals
Equitant Ifernain - bass
Additional Musicians:
David Harbour - keyboards, piano
Sir Vincent Rossi - acoustic guitar, mandolin
Masthema Mazzaqim (Azazel's Torch) - backing vocals
Ashmedi (Melechesh) - backing vocals
Ronnie Trent (10 Kingdoms) - backing vocals
Sir Don Shannon - bagpipes
Lossless
Доступно только для пользователей
16