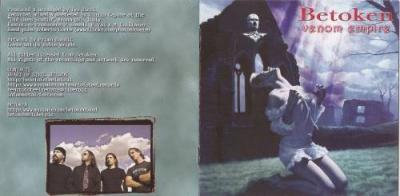 Betoken - Venom Empire
Год :2009
Tracklist :
01. (02:59) Collusion Is My Reign
02. (03:47) Holocaust For Me
03. (04:05) Obscure Place
04. (03:43) Venom Empire
05. (03:32) Who Is The Beast?
06. (04:51) You're Not In
07. (03:24) Sensation Of Tyranny
08. (03:53) Evolution Kills The Man
09. (03:37) So Black
10. (03:30) Smell Of Death And Rotten Poison
11. (03:30) In The Name Of This Endless Fall
12. (04:00) My Shadow Loves Decay
13. (02:51) Reason Turns To Grey
Playing Time :47:47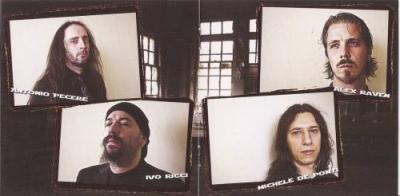 band
Antonio Pecere - Vocals (Sigma (Ita), Rapid Fire (Ita), Komaday)
Ivo Ricci - Rhythm, Lead/Acoustic Guitar, Keyboards, Drums (Black Dama)
Michele De Ponti - Lead/Acoustic Guitar (Black Dama)
Alex Raven - Bass (Beholder, Derdian)
"Venom Empire" is the new and fourth album for these italian Power-metallers and it will feature 13 powerful tracks, influenced by the Classic US Power Metal and by bands like Queensryche (Operation Mindcrime/Empire – era) and Vicious Rumors with some harmonies and technical guitar-parts that might recall mighty Megadeth.
All lead and backing vocals on the album have been recorded by Antonio Pecere (ex Sigma, Rapid Fire) and the album has been mixed and mastered by Giulio Capone (Bejelit).
© myspace