Artist:
Partland Brothers
Album:
Electric Honey
Country:
Canada
Label:
Capitol Records-EMI of Canada Limited
Catalog Number:
CDP 7 46655-2 | CD Matrix PRAXIS 00229-0 C655 SRC-01
Genre:
Pop Rock
Year:
1986
Format:
FLAC (image+.cue+log) | MP3 CBR 320 kbps
Covers:
Full Set, 600 dpi
Size RAR:
291.79 | 139.60 МB
Lenght:
40:11.25
Source:
My Own CD
File Hosting:
Yadi.sk | Google Drive
ϟ Tracklist ϟ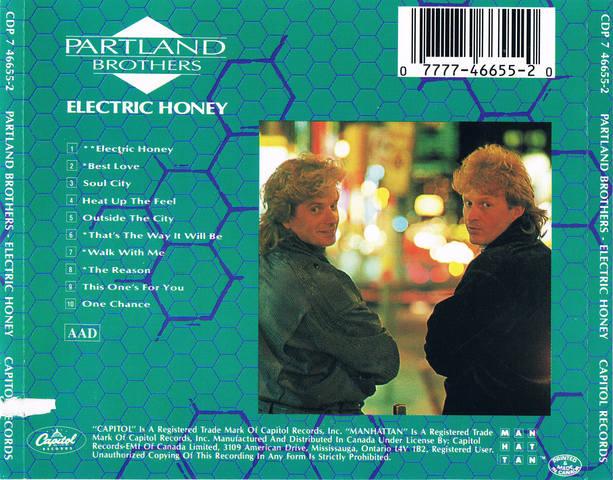 01. Electric Honey
02. Best Love
03. Soul City
04. Heat Up The Feel
05. Outside The City
06. That's The Way It Will Be
07. Walk With Me
08. The Reason
09. This One's For You
10. One Chance
ϟ Line-Up & Credits ϟ
Chris Partland - Lead and Background Vocals, Guitars
G.P. Partland - Lead and Background, Percussion
Drums - Anton Fig, Matthew Frenette, Greg Critchley
Bass - Ken 'Spider' Sinnaeve, Richard Milligan
Keyboards - Gerald O'Brien, Richard Evans
Lead Guitars - Domenic Troiano
Additional Guitars - Simon Brierley, John Bride
Sax, Steiner - Earl Seymour
Additional Horns - Rick Waychesko, John Johnson, Jim Romeo
Background Vocals - Shawne Jackson, Colina Phillips, Sharon Lee Williams, Kelly Partland
✧✧✧✧✧✧✧✧✧✧✧✧✧✧✧✧
Produced by Vini Poncia for Mad Vincent Productions
"One Chance" Produced by Jim Vallance
Recorded at Phase One Studios, Toronto
Additional Recording at Sound Interchange, Toronto and Metalworks, Mississauga
Engineered by Lenny DeRose, Assisted by Randy Staub
Mixed by Michael Brauer, Lenny DeRose, Brian McGee at Phase One Studios, Toronto
and Quadrasonic Sound Systems, N.Y.C.
Mastered by Greg Calbi and George Marino at Sterling Sound, N.Y.C.
Design - Bruce Wrighte
Photography - Dimo Safari