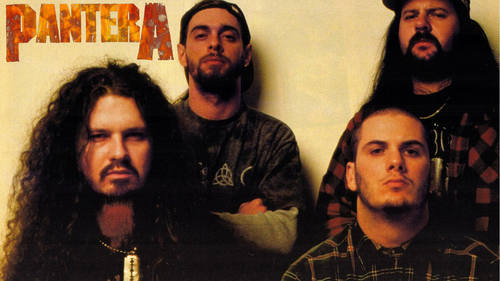 Стиль: Groove Metal, Thrash Metal, Heavy Metal/Glam Metal (early)
Страна: US
metal-archives
Pantera была популярной американской метал-группой из Арлингтона, Техас, образованной в 1981 году братьями Абботт, барабанщиком Винни Полом (Vinnie Paul) и гитаристом Даймбэгом Дерреллом ("Dimebag" Darrell), в последствии известному как Diamond Darrell. Несмотря на то, что изначально на группу влияли глэм-метал группы семидесятых, такие как Kiss и Van Halen, Pantera сменила своё музыкальное направление в конце 80-х в основном благодаря влиянию таких традиционно металических групп как Slayer, Metallica и Black Sabbath. С этого времени коллектив стал одним из основных создателей грув-метала (также называемого «пост-трэш металом»).
Pantera добилась своего первого коммерческого успеха лишь спустя девять лет после своего образования после выпуска на мейджор-лейбле Elektra Records своего альбома «Cowboys from Hell». После этого группа стала одной из самых прославленных групп девяностых. Несмотря на холодное отношение к первым четырём альбомам Pantera, критики хвалили стиль группы в девяностых. Джейсон Бирчмейер из All Music Guide считает группу Pantera «лучшей метал-группой девяностых и … одной из лучших и самых влиятельных метал-групп всех времён».Группа заняла 45 место в списке «100 величайших исполнителей тяжёлого рока» согласно VH1 и 5 место в списке MTV «10 лучших групп тяжёлого метала всех времён».

Из-за длительных конфликтов внутри группы Pantera распалась в 2003 году. В следующем году гитарист Pantera Даймбэг Даррел был застрелен психопатом прямо на сцене во время выступления со своей новой группой Damageplan.
История
____________________________________
Pantera
(/pænˈtɛrə/) was an American heavy metal band from Arlington, Texas formed in 1981. The group's best-known lineup consisted of the Abbott brothers—drummer Vinnie Paul and guitarist Dimebag Darrell—along with vocalist Phil Anselmo and bassist Rex Brown. In addition to their development and popularization of the groove metal subgenre, Pantera is credited (along with others such as Testament, Sepultura and Machine Head) for being part of the second wave of thrash metal scene from the late 1980s to early-to-mid 1990s.
Having started as a glam metal band, Pantera released three albums in the mid-1980s with founding member Terry Glaze as lead vocalist. Looking for a new and heavier sound, Pantera replaced Glaze with Anselmo in late 1986 and released Power Metal in 1988. The band secured a record deal with the major label Atco the following year. With its fifth album, 1990's Cowboys from Hell, Pantera popularized the groove metal genre, while its 1992 follow-up Vulgar Display of Power exhibited an even heavier sound. Far Beyond Driven (1994) debuted at number one on the Billboard 200.
more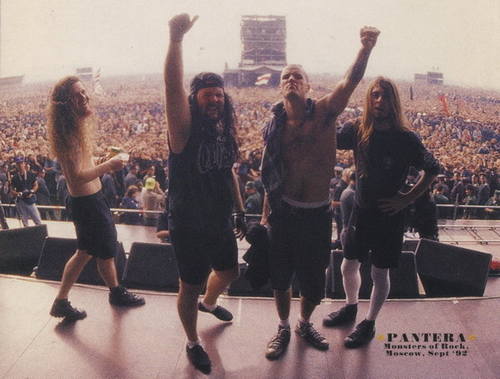 Discography

Metal Magic /Full-length 1983
Projects in the Jungle /Full-length 1984
I Am the Night /Full-length 1985
The Hot 'n Heavy Home Vid /Video/VHS 1985
Power Metal /Full-length 1988
Cowboys from Hell /Single 1990
Cowboys from Hell /Full-length 1990
Cowboys from Hell /Video/VHS 1991
Mouth for War /Single 1992
For Those About to Rock - Monsters in Moscow Split /DVD/video 1992
Vulgar Display of Power /Full-length 1992
Walk /Single 1993
Biomechanical /EP 1993
Vulgar Video /Video/VHS 1993
Planet Caravan /Single 1994
5 Minutes Alone /Single 1994
Shedding Skin /Single 1994
Hostile Moments 12" /EP 1994
Driven Downunder /Boxed set 1994
I'm Broken /Single 1994
Far Beyond Driven /Full-length 1994
Alive and Hostile E.P. /EP 1994
The Great Southern Trendkill /Full-length 1996
The Singles 1991 - 1996 /Boxed set 1996
Becoming /EP 1996
Cemetery Gates (Demon Knight Edit) /Split 1996
3 - Watch It Go /Video/VHS 1997
Official Live: 101 Proof /Live album 1997
Live /EP 1998
3 Vulgar Videos from Hell /DVD 1999
3 for One /Boxed set 1999
Reinventing the Steel /Full-length 2000
Revolution Is My Name /Single 2001
Extreme Steel Plus /EP 2001
The Best of Pantera: Far Beyond the Great Southern Cowboys Vulgar Hits /Compilation 2003
Reinventing Hell /Compilation 2003
HiFive /EP 2006
1990 - 2000: A Decade of Domination /Compilation 2010
Cowboys from Hell: The Demos /Compilation 2010
Original Album Series /Boxed set 2011
Piss /Single 2012
The Triple Album Collection /Boxed set 2012
The Badge /Split 2014
History of Hostility /Compilation 2015
The Complete Studio Albums /Boxed set 2015
The Great Southern Trendkill 20th Anniversary Edition 2016
Live at Dynamo Open Air 1998 Live album 2018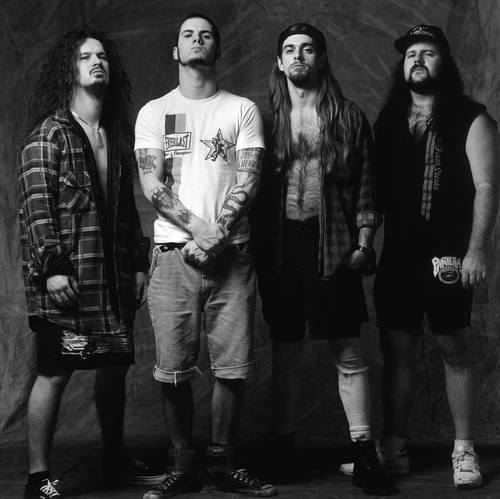 Альбомы в формате Lossless на сайте
Pantera - Metal Magic 1983
Pantera - Projects In The Jungle 1984
Pantera - I Am The Night 1985
Pantera - Power Metal 1988
Pantera - Cowboys From Hell 1990
Pantera - Vulgar Display Of Power 1992
Pantera - Far Beyond Driven 1994
Pantera - The Great Southern Trendkill 1996
Pantera - Reinventing The Steel 2000
Тема группы на форуме
______________________________
Альбомы в формате MP3 на сайте
Pantera - Collection
______________________________
Фотоальбом: группа Pantera
_______________________________
++++++++++++++++++++++++