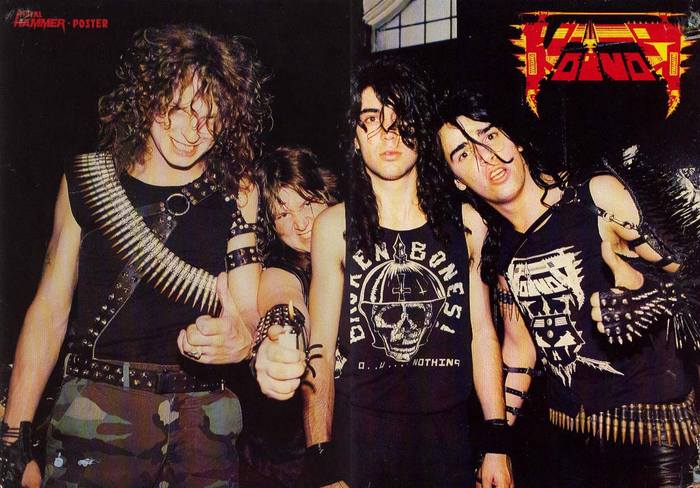 Стиль: Thrash Metal (early), Progressive Metal (later)
Страна: Canada
Voivod
— канадская метал-группа из городка Жонкьер, расположенного недалеко от Квебека. Дебютный альбом Voivod выпустили в 1984 году. С тех пор было выпущено ещё 11 студийных альбомов. Наибольшей популярности достиг альбом Nothingface 1989 года, который занял 114 место в чартах Billboard 200.[1] Летом 2009 года группа выпустила новый альбом Infini, в который вошли композиции, записанные до смерти Дэни Д'Амура в 2005 году.
история
Discography Metal-archives
_______________________
Voivod (or Voïvod) is a Canadian heavy metal band from Jonquière, Quebec. The band's current line-up consists of Denis "Snake" Bélanger (vocals), Daniel "Chewy" Mongrain (guitar), Dominic "Rocky" Laroche (bass) and Michel "Away" Langevin (drums). Their musical style has changed several times since the band's origin in the early 1980s. Starting out as a speed metal band, Voivod have added a mix of progressive metal and thrash metal to create their own unique metal style, and they are credited as one of the "big four" Canadian thrash metal bands, along with Sacrifice, Razor, and Annihilator.
Since 1982, when it was co-founded by guitarist Denis "Piggy" D'Amour, Voivod have released fourteen studio albums, as well as one EP, one live album, two compilations, seven demos and one DVD featuring a live concert. The band found mainstream success in the late 1980s with their fifth studio album Nothingface (1989), which is Voivod's only album to enter the Billboard 200 charts, peaking at number 114.[2] The band won the "Visionary" award at the 2017 Progressive Music Awards.[3] Voivod's most recent studio album, The Wake, was released in September 2018. The album won a Juno Award for Heavy Metal Album of the Year.
more
Current
Michel Langevin (Away) – drums (1982–present)
Denis Bélanger (Snake) – vocals (1982–1994, 2002–present)
Daniel Mongrain (Chewy) – guitar (2008–present)
Dominic Laroche (Rocky) – bass (2014–present)
Former
Denis D'Amour (Piggy) – guitar (1982–2005; his death)
Jean-Yves Thériault (Blacky) – bass (1982–1991, 2008–2014)
Eric Forrest (E-Force) – bass, vocals (1994–2001)
Jason Newsted (Jasonic) – bass (2002–2008)
Guest musicians
Pierre St-Jean – bass (1992–1993)
Martin Bolduc – bass (1993–1994)
Gilles Brisebois – bass (1994)
Vincent Peake – bass (2002)
_______________________________
Studio album
War and Pain (1984)
Rrröööaaarrr (1986)
Killing Technology (1987)
Dimension Hatröss (1988)
Nothingface (1989)
Angel Rat (1991)
The Outer Limits (1993)
Negatron (1995)
Phobos (1997)
Voivod (2003)
Katorz (2006)
Infini (2009)
Target Earth (2013)
The Wake (2018)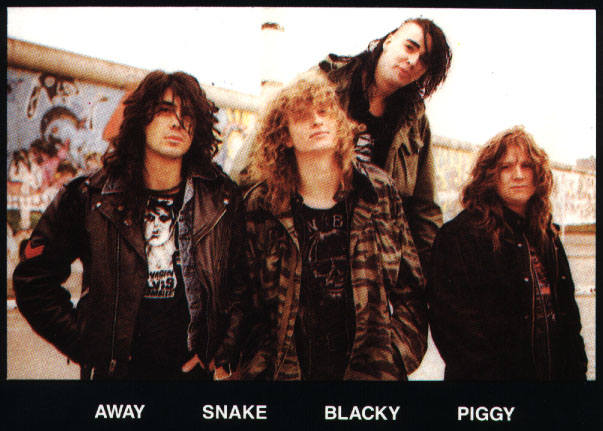 ___________________________________

Фотоальбом Voivod
___________________________________

Альбомы на сайте в формате Lossless
___________________________________
Альбомы в MP3
___________________________________