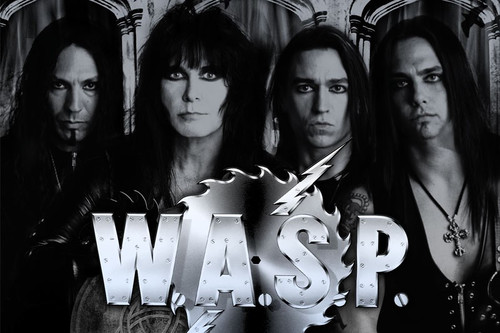 W.A.S.P. — американская метал-группа, образованная в 1982 году и наряду с Mötley Crüe, Ratt, Quiet Riot сформировавшая лос-анджелесскую глэм-метал-сцену. Коллектив приобрёл скандальную известность в 1980-х гг. и по-прежнему сохраняет популярность, периодически выпуская альбомы и проводя гастрольные туры.
W.A.S.P. стали известны во многом благодаря вызывающему поведению музыкантов на сцене, шокирующим выступлениям, которые в разное время включали элементы пыток, убийства животных и пр. Подобное поведение спровоцировало несколько судебных исков, которые коллектив выиграл.
Группа по-прежнему продолжает выпускать альбомы и гастролировать, давно не используя ранние шокирующие элементы в своих выступлениях. Единственным участником, оставшимся с первого состава, является лидер W.A.S.P. — гитарист и вокалист Блэки Лолесс.
больше
W.A.S.P. is an American heavy metal band formed in 1982. They emerged from the early 1980s Los Angeles heavy metal scene. The band's popularity peaked that decade, yet they continue to record and tour, making them one of the most enduring of the West Coast heavy metal bands. W.A.S.P. gained notoriety for their shock rock-themed image, lyrics and live performances. They have sold over 12 million albums.
W.A.S.P. was a prominent target in the mid-1980s of the Parents Music Resource Center (PMRC), an organization that pushed for warning labels on recorded music. The band immortalized its fight with the PMRC on the song "Harder, Faster" from their 1987 live album, Live...In the Raw. Some of their most notable songs are "Animal (Fuck Like a Beast)", "I Wanna Be Somebody", "L.O.V.E. Machine", "Wild Child", "Blind in Texas", "Forever Free", "Mean Man", "Chainsaw Charlie (Murders in the New Morgue)" and "The Idol", as well as their cover versions of Ray Charles' "I Don't Need No Doctor" and The Who's "The Real Me". The band's most recent album, Golgotha, was released in 2015. more-
https://en.wikipedia.org/wiki/W.A.S.P._(band)
официальный сайт группы
W.A.S.P. (WASP) - Официальная дискография 1984 - 2018
Студийные альбомы
1984 - WASP (Japan, TOCP-7609)
1985 - The Last Command (Japan, TOCP-7610)
1986 - Inside The Electric Circus (USA, CDP 7 46346 2)
1989 - The Headless Children (Japan, CP32-5696)
1992 - The Crimson Idol (Japan, TOCP-6705)
1995 - Still Not Black Enough (Japan, VICP-5560)
1995 - Still Not Black Enough (USA, Castle 120-2)
1997 - K.F.D. [Kill Fuck Die] (USA, Castle 135-2)
1997 - K.F.D. [Kill Fuck Die] (Japan, VICP 5835)
1999 - Helldorado (Japan, VICP-60666)
2001 - Unholy Terror (Japan, VICP-61356)
2002 - Dying For The World (Japan, VICP-61339)
2004 - The Neon God (Part 1 & Part 2)
2007 - Dominator (Germ., DEMCD 160)
2009 - Babylon (UK, DEMCD 165)
2015 - Golgotha (NPR 600 DP)
2018 - ReIdolized (The Soundtrack To The Crimson Idol) [2CD]
Синглы, промо
1985 - School Daze
1987 - I Don't Need No Doctor (192 kbps)
1988 - Live Animal (Fuck Like a Beast)
1989 - Forever Free [UK]
1989 - Forever Free [USA]
1989 - Mean Man
1989 - The Real Me
1990 - Animal (Fuck Like a Beast)
1992 - Chainsaw Charlie (Murders In The New Morgue)
1992 - Hold On To My Heart
1992 - I Am One (2 vers.)
1992 - The Idol
1992 - The Story of Jonathan Part I & II
1993 - Sunset & Babylon
1995 - Black Forever [RAWX 1005]
1995 - Black Forever [RAWX 1006]
1997 - Kill Fuck Die [UK]
1997 - Kill Fuck Die [USA]
1998 - To Die For
1999 - Helldorado
2002 - Shadow Man
2004 - 3 Song Sampler
2009 - Crazy
Сборники
1993 - First Blood... Last Cuts (Japan, TOCP-8072)
1999 - Golden Ballads
2000 - The Best Of The Best 1984-2000 [Snapper, SMACD825, UK]
2007 - The Best Of The Best 2CD [Snapper, SMACD926, Germany]
Ремастеры
1984 - WASP (Japan, VICP-60149, 1998)
1985 - The Last Command (Japan, VICP-60150, 1998)
1986 - Inside The Electric Circus (Japan, VICP-60151, 1998)
1987 - Live... In The Raw (Japan, VICP-60152, 1998)
1989 - The Headless Children (Japan, VICP-60153, 1998)
1992 - The Crimson Idol (Japan, VICP 60334~5, 1998)
Концерты
1987 - Live... In The Raw (USA, CDP 7 48053 2)
1998 - Double Live Assassins 2CD (Japan, VICP-60209~10)
2000 - The Sting (UK, SMA CD 836)
2018 - Nasty (Live Radio Broadcast, bootleg)
Винилы
1992 - The Crimson Idol
2007 - Dominator
2009 - Babylon
2015 - Golgotha
=
+++
Отдельные темы на сайте (формат MP3)
W.A.S.P. - W.A.S.P. 1984
W.A.S.P. - The Last Command 1985
W.A.S.P. - Inside The Electric Circus 1986
W.A.S.P. - The Headless Children 1989
W.A.S.P. - The Crimson Idol 1992
W.A.S.P. - Still Not Black Enough 1995
W.A.S.P. - Kill.Fuck.Die. 1997
W.A.S.P. - Helldorado 1999
W.A.S.P. - Unholy Terror 2001
W.A.S.P. - Dying For The World 2002
W.A.S.P. - The Neon God Part 1: The Rise, Part 2: The Demise 2004
W.A.S.P. - Dominator 2007
W.A.S.P. - Babylon 2009
W.A.S.P. - Golgotha 2015